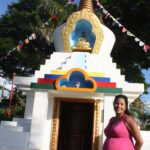 It is on mornings like these that my phone decided I wanted to see a photo memory that it chooses not.
In July 2011, I had already learned my son Elijah would not live. This photo is from taking him in utero and my young daughter to Hawaii, to show him the beauty and the rainbows while within me.
Waking up to this one from July 2011 after a meltdown of grief night – I felt kind of numb, to be honest.
Yea- I am not feeling all the beauty and rainbows this morning from being exhausted from the gut-wrenching tsunami tears last night – however, I know that feeling of beauty is waiting for me to get up out of bed and use my tears to water, "The Loving Garden" to let this very representation of love bloom on to help others in the dire need I knew and know.
Get up, Lori.
Rise and Bloom Love On.
– Lori Freed