Written in March 2020-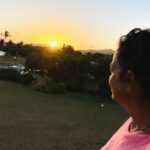 A sunset is a beautiful waning, a denouement to an experience be it a moment, a day, or a lifetime.
I chose the sunsets of my life, always chasing them before they set in the waters of the Pacific. Perhaps, subconsciously, I was wanting the ending to storylines and pain and feeling lost and alone. The sunsets felt me and were always there to keep me company in my solace.
Now…here I sit, at 53 years, not chasing, just sitting, just being as I wait patiently for the sunrise in the East to greet me over the island mountain. I receive it as it does me, in my solace however I realize with every sunrise – they are the beginnings of a moment, of a day, of a lifetime. Yes, perhaps I am now ready in the dénouement of my lifetime, to begin again. Or maybe, for the first time.
And rise like the beautiful sunrise that always shares its light, its love, its truth. And she rises every single day receiving any open heart that is ready to return to their own light, their own love, their own truth…like I did.
-Lori Freed